August 02, 2021
Announcing our new Board of Directors Chairperson, Sheilah D. Vance, Esq.
Clery Center is excited to announce that Sheilah D. Vance, Esquire, has become the newest chairperson of our board of directors. Sheilah is an attorney with a primary focus in education law, an affiliated consultant for TNG Consulting, an adjunct professor at Villanova University School of Law, and a published author. She lives in Washington, DC, and is also a member of the Advisory Board of ATIXA (Association of Title IX Administrators) and co-chair of the Education Law Committee of the Philadelphia Bar Association. "We are grateful to Roger Carolin, the outgoing chair, for his dedication and commitment to the Center and excited for what the future holds under Sheilah's leadership. Sheilah brings a wealth of knowledge in nonprofit management, higher education, and Title IX, which will be invaluable to Clery Center as we continue to advance our mission," said Jessica Mertz, executive director.
"As Board Chair, I look forward to working with the Center's dedicated staff and other board members to enhance our role as experts and advisors in Clery Act compliance, to build new partnerships with other organizations that are working on campus safety, and to secure passage of the groundbreaking REACH Act to end hazing at our colleges and universities," said Sheilah. "It is an honor to work with the Clery family and the other Board members who do this important work in memory of Jeanne Clery."
May 12, 2020
Clery Center Statement in Response to New Title IX Regulations
Last week, amid ongoing concerns in the higher education community about COVID-19, the U.S. Department of Education released updated regulations for Title IX; regulations that have been in the making since 2017. 
The new regulations note they received 124,000 comments in response to the Notice of Proposed Rule-Making (NPRM), including Clery Center's. This number alone demonstrates the significance of these regulations and the lives they will impact for years to come. This includes, first and foremost, the impact on the lives of survivors of harassment and assault, who experience consequences far beyond equal access to education.  As stated in the preamble, "Commenters told the Department that rape and sexual assault, in particular, changed their lives forever, and has severe consequences emotionally, physically, academically, and professionally." (p 107) It is with this knowledge that we remain, as we were when reading the NPRM, deeply troubled by many elements in the regulations which will not only lead to a decrease in students seeking support and justice at their institutions, but will exacerbate these severe consequences. These regulations disingenuously seek alignment with the Clery Act in order to justify adversarial measures that further complicate disciplinary procedures intended to counter hostile or abusive educational environments.
As we continue to work through reading and interpreting the new Title IX regulations, we do so with disappointment and dismay at the expectation that institutions of higher education are expected to implement any procedural changes within three month's time, while in the midst of responding to a global pandemic. In comparison, section 304 of the Violence Against Women Reauthorization Act — the most recent amendments affecting the Clery Act, also focused on dating violence, domestic violence, sexual assault, and stalking — gave institutions an implementation period three times as long. Regardless of our disagreement with aspects of the regulations, our expertise in helping schools develop and implement critical policies required under the Clery Act tells us that any changes of this magnitude require thoughtful consideration, training, and collaboration in order to be implemented with the fairness and equity the Department claims to value above all else. 
We at Clery Center remain committed to supporting schools in creating safer campus communities and we continue to believe in upholding the spirit of the Clery Act. It is our hope, which is reflected in our training and education programs, that colleges and universities will remain dedicated to supporting survivors, keeping resources accessible to those who need them, and viewing compliance with both the Clery Act and Title IX as an institutional responsibility and the blueprint for changing the culture around campus safety.
March 19, 2021
McBath, Lowenthal Introduce Bicameral, Bipartisan Legislation to Address Hazing on College Campuses
Washington, DC — Rep. Lucy McBath (D-Marietta) led legislation this week with Rep. Alan Lowenthal (D-CA) to address hazing on college campuses. The Report and Educate About Campus Hazing (REACH) Act would require hazing incidents to be reported as part of a college's annual crime report and establish a definition of hazing to clarify what constitutes a reportable offense. The legislation would also require institutions to establish a campus-wide, research-based program to educate students about the dangers of hazing. Since 2000, there have been more than 50 hazing-related deaths on America's college campuses.
Bipartisan companion legislation was introduced by U.S. Senators Amy Klobuchar (D-MN), Bill Cassidy (R-LA), Sherrod Brown (D-OH), and Bob Casey (D-PA).
"The impacts of hazing on young people across our country are heartbreaking and unacceptable, and we have a duty to ensure that schools are a safe environment for our students," said McBath. "By setting national standards for anti-hazing programs, we can protect the health and safety of our students and ensure they learn and live in a positive, secure environment."
"As a father, grandfather, and former professor, the wellbeing of students has always one of my top priorities. I am proud to work with Congresswoman McBath and Senator Klobuchar on this important legislation. The REACH Act would most importantly add hazing to the list of campus offenses that are disclosed in a higher education institution's Annual Security Report. Hazing is a serious crime, and full transparency of these incidences should be made available to parents and students. The Clery Act currently does not list hazing as a reportable offense, but the REACH Act would close this loophole. My heart goes out to the families that have suffered from incidences of hazing. It is time that we take this important step to protect our students," said Lowenthal.
"Hazing is a dangerous—and at times deadly—problem on college campuses, and we must work to end it," said Klobuchar. "This legislation will require colleges and universities to include hazing as part of their annual crime reports, giving us a comprehensive and accurate understanding of hazing so we can create effective measures to address it."
"Education and accountability are required to end hazing. The REACH act does," said Cassidy. "This keeps students safer which increases parents peace of mind."
"We have a collective responsibility to protect and support Ohio students – that means addressing the hazing that pervades college campuses," said Brown. "Hazing should never be taken lightly and cannot be tolerated. By helping to lay the groundwork for students and educators to identify and report hazing, we can provide important tools to prevent this abuse in the first place."
"Every year, hundreds of students are hurt or killed by hazing on college campuses, yet information and data of these acts often goes unreported," said Casey. "The Report and Educate About Campus Hazing (REACH) Act would ensure hazing is appropriately reported as crimes and that students are educated on the dangers of hazing. I also want to express my sincere condolences to the Piazza and Braham families—who lost their college-age children to hazing—and thank them for their tireless advocacy to stop hazing and prevent other families from losing their loved ones to these horrific acts."
"Federal legislation to address hazing is long overdue, and while we wait, lives continue to be lost. The REACH Act will help institutionalize hazing prevention and will standardize how hazing is defined, tracked, and responded to across colleges and universities," said Jessica Mertz, Executive Director of the Clery Center.
"Passage of the REACH Act will help campus leaders send a strong and clear message that student health, safety, and well-being are vital to achieving the goals of postsecondary education," said Dr. Elizabeth Allan, Professor of Higher Education at the University of Maine, Principal of StopHazing, and Director of the Hazing Prevention Consortium.
"On March 30, 2007 (almost exactly 14 years ago) our oldest son Gary DeVercelly, Jr. died from a fraternity hazing ritual during Big/Little night at the age of 18. Since his death, the number of identified hazing deaths has escalated at an alarming rate. This year alone we have seen three hazing deaths in the span of one week. We see the reintroduction of the REACH Act as a giant step forward in our battle to eradicate hazing. By requiring accountability, transparency, and education this bill will transform the hazing culture. We know the REACH Act will save lives and make campuses safer. Had this bill been in effect when Gary Jr. went to college, he'd be alive today," said Gary and Julie DeVercelly, parents of Gary DeVercelly, Jr. (09/04/1988 – 03/30/2007).
Learn more about Clery Center's hazing prevention and education resources and about the REACH Act here: https://clerycenter.org/hazing/
April 10, 2019
Clery Center Announces New Executive Director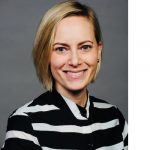 Clery Center is pleased to welcome Jessica A. Mertz as its next executive director.
Jessica joins Clery Center from University of Pennsylvania where she was the inaugural director of its Penn Violence Prevention department. While there she created programs focused on preventing and educating the entire campus community about sexual violence, dating and domestic violence, and stalking. "What will always stand out as my most meaningful experience at Penn is the time I spent learning from, and supporting, our students. Seeing how incidents of violence and harm can deeply impact a student's life motivates me as an educator and an advocate," said Jessica.
"The staff and board are thrilled that Jessica will be leading Clery Center in its future endeavors," shared Roger Carolin, chairperson of the Clery Center board of directors. "As Clery Center continues to grow, Jessica's comprehensive understanding of the needs of colleges and universities regarding campus safety will be invaluable, particularly at such an important moment of national dialogue around issues such as sexual assault and hazing."
Prior to her current role, Jessica was the associate director of the University of Pennsylvania's Women's Center, where she spearheaded initiatives that addressed gender equity and interpersonal violence. She also currently serves on the board of Directors for Women Organized Against Rape and is a part of Philadelphia's Sexual Assault Advisory Council. Prior to joining Penn, she worked as a domestic violence project coordinator at Robert Wood Johnson University Hospital, as a domestic violence counselor at Women in Transition, and as a Victim Advocate for the Victim Services Center of Montgomery County, PA. She earned a BA in English at Saint Joseph's University, an MA in Women's and Gender Studies from Rutgers, and received her Certificate in Nonprofit Administration from Penn's Fels Institute of Government.
"It's an honor to join an organization that has established itself as a thoughtful and innovative leader in higher education. I am excited to build on the collaborative work of Clery Center and to look to the future of creating safe campus communities," said Jessica.
Jessica succeeds Abigail Boyer, who led Clery Center as interim executive director during its search for an ED and returns to her previous position as associate executive director, continuing her work managing its comprehensive array of services and programs. "Our team collaborates with campus professionals to help them understand and implement the Clery Act," said Abigail. "We work closely with institutions to find solutions that work for them. Jessica's leadership experience in higher education —where she worked closely with critical campus partners such as public safety, student affairs, residence life, student conduct, and counseling — models Clery Center's philosophy regarding a multidisciplinary approach to the prevention of and response to campus crime."
Jessica will begin her new position at Clery Center on May 13, 2019. 
About Clery Center
Clery Center is a national nonprofit organization founded in 1987 that empowers colleges and universities to create safer campuses. They connect campus safety professionals with 30 years of experience, unparalleled expertise, and in-depth training, resources, and strategies to understand and implement the Clery Act. Clery Center prides itself on guiding institutions to exemplify the spirit of the law with a proactive commitment to campus safety and educating campus communities to know how the law protects them.