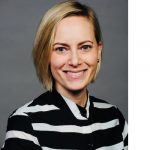 Clery Center is pleased to welcome Jessica A. Mertz as its next executive director.
Jessica joins Clery Center from University of Pennsylvania where she was the inaugural director of its Penn Violence Prevention department. While there she created programs focused on preventing and educating the entire campus community about sexual violence, dating and domestic violence, and stalking. "What will always stand out as my most meaningful experience at Penn is the time I spent learning from, and supporting, our students. Seeing how incidents of violence and harm can deeply impact a student's life motivates me as an educator and an advocate," said Jessica.
"The staff and board are thrilled that Jessica will be leading Clery Center in its future endeavors," shared Roger Carolin, chairperson of the Clery Center board of directors. "As Clery Center continues to grow, Jessica's comprehensive understanding of the needs of colleges and universities regarding campus safety will be invaluable, particularly at such an important moment of national dialogue around issues such as sexual assault and hazing."
Prior to her current role, Jessica was the associate director of the University of Pennsylvania's Women's Center, where she spearheaded initiatives that addressed gender equity and interpersonal violence. She also currently serves on the board of Directors for Women Organized Against Rape and is a part of Philadelphia's Sexual Assault Advisory Council. Prior to joining Penn, she worked as a domestic violence project coordinator at Robert Wood Johnson University Hospital, as a domestic violence counselor at Women in Transition, and as a Victim Advocate for the Victim Services Center of Montgomery County, PA. She earned a BA in English at Saint Joseph's University, an MA in Women's and Gender Studies from Rutgers, and received her Certificate in Nonprofit Administration from Penn's Fels Institute of Government.
"It's an honor to join an organization that has established itself as a thoughtful and innovative leader in higher education. I am excited to build on the collaborative work of Clery Center and to look to the future of creating safe campus communities," said Jessica.
Jessica succeeds Abigail Boyer, who led Clery Center as interim executive director during its search for an ED and returns to her previous position as associate executive director, continuing her work managing its comprehensive array of services and programs. "Our team collaborates with campus professionals to help them understand and implement the Clery Act," said Abigail. "We work closely with institutions to find solutions that work for them. Jessica's leadership experience in higher education —where she worked closely with critical campus partners such as public safety, student affairs, residence life, student conduct, and counseling — models Clery Center's philosophy regarding a multidisciplinary approach to the prevention of and response to campus crime."
Jessica will begin her new position at Clery Center on May 13, 2019. 
About Clery Center
Clery Center is a national nonprofit organization founded in 1987 that empowers colleges and universities to create safer campuses. They connect campus safety professionals with 30 years of experience, unparalleled expertise, and in-depth training, resources, and strategies to understand and implement the Clery Act. Clery Center prides itself on guiding institutions to exemplify the spirit of the law with a proactive commitment to campus safety and educating campus communities to know how the law protects them.